Face
Ultra Hydrating Mist
Features

Cruelty-Free (Non-Animal Tested)
Vegan Formula available
Alcohol-Free
Paraben-Free
Contract manufacturing to fully customize your private label cosmetics products
Packaging and Bulk can solely purchase, turnkey service
Description
During the summer time, not only your body needs water. Your face needs hydration, too.
So many brands have hydration spray, such as MAC_Prep+Prime Fix+, Shu Uemura_skin perfector makeup refresher mist, and MAKE UP FOR EVER_Mist&Fix Hydrating Setting Spray. You definitely don't want to miss it !
Check out the "
Ultra Hydrating Spray
"
There are various types of packaging for you to choose from. In addition to providing timely moisture to the skin, the ultra hydrating spray has the following effects:
Use the hydrating spray as a toner, quickly relieve skin discomfort, and enhance skin protection.
Keep makeup stay in place
Use the hydrating spray on a beauty blender and other makeup utensils, then use it with liquid foundation to make your makeup flawless, dewy, and long-lasting.
Before touch-up, use tissue paper to lightly press the makeup separation spot, then use hydrating spray, and dry it naturally before touch-up so that the makeup will relive to the perfect state again.
Use the hydrating spray to make your skin oil-water balance, reduce oil secretion, and stay hydrated.
Use the hydrating spray to let your skin antipyretic. With one lightly sprays, you will immediately feel refreshing during the summer time.

How to use:
Lift the spray slightly above the face, keeping a distance of about 15-20 cm.

Spray evenly on your face, and gently massage with your palms to help absorption.

Use it before & after makeup, and as needed during the day.
Ultra Hydrating Spray Wear Test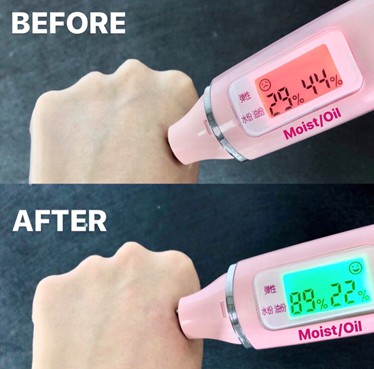 The ultra hydrating spray delivers hydration, reduces oil secretion effectively.
Can't wait to have your own brand hydrating spray?

Ultra Hydrating Mist Specification
Dimension
Volume
Upon request
Material
Formulas Type
Liquid
Storage
Shelf Life : 36 Months
Period after Opening : 12 Months
References
https://www.getthegloss.com/article/the-gloss-report-facial-mists
https://www.elle.com/tw/beauty/skin/g28599973/how-to-use-hydrating-spray/
https://www.harpersbazaar.com/tw/beauty/skincare/g27693869/vincent-skincare-moisturizing-spray/